It's another 7 Wonders birthday! This week we're celebrating the one and only Ryan Gosling's thirty fourth.
Oh Ryan Gosling, there aren't enough words to describe how deeply we feel about you. Your charm, talent and crippling good looks could move mountains. On behalf of women and gay men everywhere, 7 Wonders would like to say happy birthday, you truly ridiculously good looking man. Never have we been more jealous of Eva Mendes, the extremely lucky woman who gets to go home to you at night. Your daughter is gorgeous and we couldn't be happier for you. Or 90% happy for you, 10% seething with jealousy. Maybe 80-20.
Since appearing in The Mickey Mouse Club as a child, Ryan Gosling has followed the path of fellow Mickey Mouse alumni Justin Timberlake by being a talented actor, as well as a regulation hottie. Highlights include playing a smooth bachelor in Crazy Stupid Love, a loving father turned bank robber in The Place Beyond the Pines, and a socially handicapped sweetheart who falls in love with a sex doll in Lars and the Real Girl. As if his acting skills weren't enough, the Feminist Ryan Gosling Tumblr page and accompanying book have firmly secured his place in our hearts.
Overall, 7 Wonders is very much in love with the fantastic actor and one man lovin' machine that is Ryan Gosling. To celebrate his thirty fourth birthday, we are proud to present the best seven Ryan Gosling gifs that the internet can offer. Happy birthday RG.
Weak. At. Knees.
Oh my.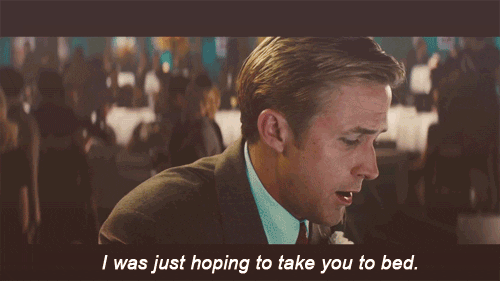 I will be happily compliant.
What kind of moron would leave Ryan Gosling though?
#dreamboat
Cannot cope.
I'm done.
Words: Elliot Rose